Interview with Akulu Lipenga
Akulu Lipenga – Digital Painting Artist in Malawi
| | |
| --- | --- |
| Age | 29 |
| Current City | Blantyre, Malawi |
| Instagram | @_akulu |
Notable Artworks
Nana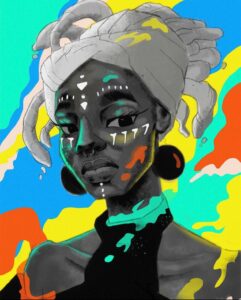 A portrait of a painted lady with face tattoos and abstract contrasting waves.
Plant Mum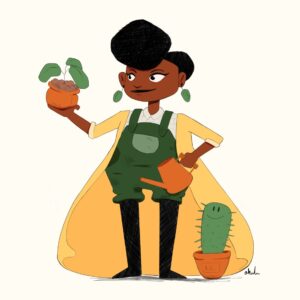 A depiction of a plant mother caring for her plants.
Receiving of a Blessing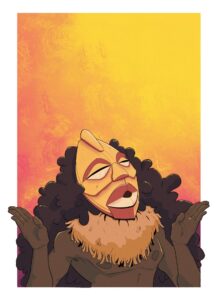 A depiction of a tribal masked man receiving a blessing from his gods.
Interview
Interview Date: April, 2023
"I enjoy studying other artists' work and discovering insights in their process."
I'm a Blantyre-based Freelance illustrator and Animator. I am also the co-founder of Zaluso Arts. I spent some time animating for Studioxygen Africa.
I majored in Fine Arts at Chancellor College, although a lot of the work I do I learnt from "YouTube University", which is to say self-taught.
I currently work on personal projects and freelance gigs here and there, and I'm also now learning how to become a farmer.
MALAWI PLUS
How did you start digital painting?
I can't quite remember to be honest, but I think I was interested in it because it didn't require me to buy new materials all the time.
I used to trace my drawings and photos of people on a program called adobe illustrator, which is how I think a lot of people start out nowadays.
I did a lot of work in Adobe Illustrator using what are called "vectors", but my work felt very rigid. So I eventually invested in graphic tablets and other drawing programs that would allow me to draw on the computer the same way I draw on paper.
Nowadays I rarely draw on paper, but I still try my best to make sure people experience my work physically somehow.
MALAWI PLUS
Where do you get inspiration to create your art?
I find inspiration from other artists all over the world, from social media to Pinterest and films I watch.
MALAWI PLUS
Tell us more about the deck of cards you created?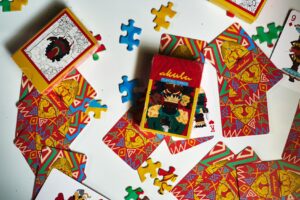 I used to post random drawings on my Instagram page but that felt aimless, so I learnt to work towards projects, preferably projects that would end with some sort of physical "product".
So I've done stickers, bookmarks, playing cards, and even a puzzle.
The playing cards are just a redesigning of a classic deck of cards, each card has a unique artwork. They also have an augmented reality feature hidden at the back.
MALAWI PLUS
Where can people buy your art?
At the moment the only way to buy my art is to contact me, although I sometimes do pop-ups at events like Farmers Market.
MALAWI PLUS
What is your favourite part about creating art?
I love the ideation stage where I'm doing rough, ugly sketches.
This is a stage where anything is possible and you're not really trying to make anything look pretty so there isn't much pressure.
I also enjoy studying other artists' work and discovering insights in their process.
MALAWI PLUS
Any challenges you have faced over the years? 
One challenge that keeps coming up while living in Malawi is the limitations of the things you can get made.
For example, with the cards, it was very difficult to find a printer that could produce them consistently, or even make a box.
So I ended up having to print them outside the country, and even then there were challenges with forex and entities like MRA.
MALAWI PLUS
Any artist you would like to collaborate with?
I think it would be interesting to collaborate with Chris Base.
MALAWI PLUS
Any advice to young aspiring artists?
Don't be afraid to create and share things that feel weird.
Create a lot, and experiment; the sure way to improve is through mileage.
Share your work! Your audience will find you.
MALAWI PLUS
What is your dream project?
I'd love to make an animated film or video game someday.