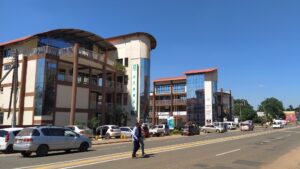 Basic Information
| | |
| --- | --- |
| Company Name | Design and Printing PLUS Limited |
| Physical Address | Corporate Mall, Area 4, Chilambula road, Lilongwe, Malawi |
| Postal Address | P.O. Box 502, Lilongwe, Malawi |
| Phone | +265 (0) 998 311 666 |
| Email Address | info@designandprintingplus.com |
| Opening Hours | 8:00 – 17:00 (Monday – Friday) |
| Map | |
About Design and Printing PLUS Limited
Established in January 2019, Design and Printing PLUS is a company which provides 'High Quality' and 'Punctual' graphic designing and printing services in Lilongwe, Malawi.
In addition to the designing and printing services, we publish two types of quarterly magazines, 'Travel PLUS Malawi Magazine' and 'Business PLUS Malawi Magazine'.
We also run this website, 'MALAWI PLUS' to provide comprehensive and up-to-date information about Malawi.
Company History
| | |
| --- | --- |
| January 2019 | Company registration |
| May 2019 | Opened a graphic designing and printing shop in Lilongwe |
| June 2020 | Won the first prize in the logo competition of National Water Resources Authority of Malawi |
| November 2020 | Launched 'Travel PLUS Malawi Magazine' and 'Business PLUS Malawi Magazine' as quarterly magazines |
| February 2021 | Won the second and third prize in the logo competition of Malawi Confederation of Chambers of Commerce and Industry |
| July 2021 | Launched 'Malawi PLUS' website |
| September 2022 | Completed the project for the Ministry of Tourism to produce seven themed posters, brochures, videos and jingles |
| September 2023 | Launched 'PR PLUS' |
Strategy
| | |
| --- | --- |
| Mission | Change Malawi through Design |
| Vision | Be a spokesperson to move clients' business forward |
| Value | Provide 'High Quality' and 'Punctual' services |
Download Company Profile