Interview with Annie Likambale
Annie Likambale – Special Effects Make-up Artist
| | |
| --- | --- |
| Age | 28 |
| Current City | Kasungu, Malawi |
| Instagram | @Annz_dq |
Notable Artworks
Art 1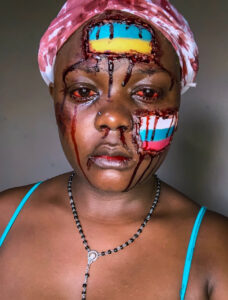 Art 2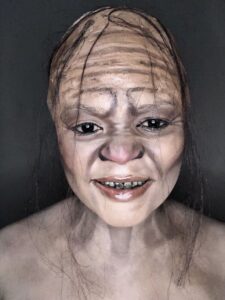 Interview
Interview Date: October, 2022
"Malawi is starting to embrace special effects makeup as an art although there are still people who view it as Satanism."
MALAWI PLUS
Please introduce yourself.
My name is Annie Likambale.
I am originally from Balaka, but right now I'm staying in Kasungu.
I love to do all kinds of makeup, but I'm more passionate about special effects makeup using both cosmetics and prosthetics.
MALAWI PLUS
Can you tell us what special effects makeup is and how different it is from traditional makeup?
Special effects makeup is any makeup involving cosmetics that creates a non-traditional effect, with an illusion of sorts.
It's mainly focused on old age, creatures, characters, prosthetic makeup and even body art and face painting can be considered as special effects.
Realism and imagination are put to the test with special effects.
It's all about making your craziest interpretations come to life.
The primary difference between a traditional and special effects makeup artist is while the former is typically meant to beautify or enhance an actor's natural features, the latter typically spends their time doing the opposite.
Special effects makeup artists will spend much of their time on the sets of films, television shows, or theatre productions using different makeup tools to create the appearance of bruises, cuts, blood, old age and deformities.
MALAWI PLUS
How did you become interested in special effects make-up?
At first I was more interested in the traditional kind of makeup, but then I came across a certain special effects makeup tutorial on YouTube and I was so impressed, so I decided to try it out.
After that, I kept watching more tutorials and practicing till it became easier.
I have never attended any formal training on special effects makeup or any makeup artistry, I learnt through YouTube tutorials.
I think I was so determined and passionate about it, that's why it wasn't so hard for me.
MALAWI PLUS
What is the current situation of special effects make-up in Malawi?
Currently, I can say that Malawi is starting to embrace special effects makeup as an art although there are still people who view it as Satanism, but the majority are coming to terms with the fact that it's just art.
Maybe if our movie industry was at a more advanced level where we could showcase this art more, then Malawians would appreciate it.
MALAWI PLUS
What are some challenges in the special-effects industry in Malawi?
One of the challenges I face as a special effects makeup artist is the lack of resources.
In Malawi, there aren't any shops that sell the products I need, so most of the times I have to improvise and make my own products which are not as good as the original.
MALAWI PLUS
What is the biggest project you have worked on as a special effects make-up artist?
I haven't worked on any big projects yet, but I participated in the "Stop Gender Based Violence" competition and I won first place.
I feel like my work is improving day by day, but I just don't have the proper platform to showcase it.
I would really love to work on a movie or any big project so that my talent can be recognized both nationally and internationally.
MALAWI PLUS
What is your favourite movie/video with special effects makeup?
Some of my favourite movies with special effects makeup include Avatar (2009) and The Lord of the Rings (2001) which are both fantasy movies.
These movies were my favourite to watch when I was younger.
I was so fascinated by the creatures and I always wondered how they came up with such dramatic looks for the characters.
I can now gladly say I know how these looks were created and have even tried out some of them.