Interview with Charles Levison
Charles Levison – Visual Artist in Malawi
| | |
| --- | --- |
| Age | 31 |
| Current City | Lilongwe, Malawi |
| Instagram | @charleslevison |
Notable Artworks
Jacaranda Market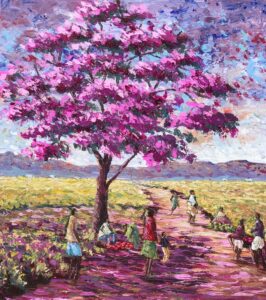 Inspiration from local market scenes that are commonly established under huge trees in many villages in Malawi. This is a jacaranda tree and people down there are selling commodities.
Fishermen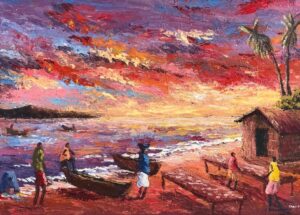 This scenery depicts daily life at Lake Malawi. Where you find people doing different activities i.e. washing, bathing, and fishing.
Cyclone Freddy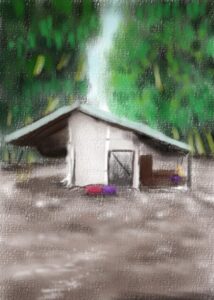 This is a tribute to Cyclone Freddy's victims. I was inspired by the Cyclone, looking at how people were affected, I thought of documenting it so people can remember it as part of our history.
Interview
Interview Date: April, 2023
"My goal is to publicise Malawi through art and to support my fellow artists."
My name is Charles Levison, I am from Lilongwe.
Currently, I am serving as general secretary of Visual Association of Malawi and I am also vice general secretary of the Film Association of Malawi.
MALAWI PLUS
How did you start painting?
Firstly, my interest was in filmmaking, and then looking at how people appreciate art, I decided that I should go for art.
I started art in 2011 and went on to study in Blantyre, at the School of Art in 2014. I majored in art and filmmaking.
MALAWI PLUS
What inspired you to create art on Cyclone Freddy?
I was inspired by the actual Cyclone Freddy, part of my family was affected. So, I was like 'how can I remember this?' As an artist, I thought of doing the painting of Cyclone Freddy to spread the news of the effects and impact of cyclone Freddy.
MALAWI PLUS
Where can people buy your art?
I have a website called Levison Gallery and people can buy from there.
Levison Gallery is not a personal gallery, I put Malawian artworks by everyone interested.
You can also find my work at the Jacaranda Cultural Centre and La Caverna in Blantyre. In Lilongwe, you can find my works at Kalitso Art Gallery and Visual Arts Shop in the City centre.
MALAWI PLUS
What is the biggest project you have worked on?
I have done two projects, the first is The Boy Who Harnessed the wind inspired art exhibition. We had an exhibition in Zomba, Blantyre and we finished in Lilongwe.
The idea of the exhibition was to support his hub in Kasungu, 20% of the revenue from the exhibition was donated to the hub.
The second exhibition was Art with Tea. It was my first international exhibition organised by Rare Tea Charity.
Rare Tea Charity is a UK-based charity that supports people around Satemwa Tea Estate in Thyolo as well as Mulanje.
I made paintings with the aim of supporting students that are supported by the charity.
MALAWI PLUS
What is your favourite part about creating art?
My favourite part is the finishing.
When you are painting there are a lot of things that happening, you get stressed up, you feel disappointed, you feel like you cannot manage it, you feel down but, in the end, you are inspired to make another art.
MALAWI PLUS
How do you know when a painting is finished?
They say art is never finished.
For me, I look at colour harmony, if the colours have been harmonised properly and if the proportion is fine, the scale of the subject, there is a story, there is an interesting object, there is a pattern, there is a perspective, there is movement, when all these are joined together, to me, I feel like I'm done.
MALAWI PLUS
What are your goals as an artist?
My goal is to publicise Malawi through art and to support my fellow artists as I said I have an online gallery, and I want to see everyone being on one platform.
MALAWI PLUS
Do you have any advice for young aspiring artists?
Malawi does not appreciate art, but this should not demotivate you to pursue art.
To upcoming artists, you should not rely on art, if you have a business or another career to focus on, you can do both. This is my honest opinion; I know some other people can say otherwise.