What is Chichewa?
Chichewa is Malawi's national language which is spoken especially in the Southern and Central regions of Malawi.
English is the official language of education and many urban Malawians speak it with great fluently, but if you study Chichewa before arriving in Malawi, we assure you will better understand why Malawi is called "the Warm Heart of Africa" and your stay will be many times more enjoyable.
Chichewa is classified as a Bantu language which now includes practically every language spoken in sub-equatorial Africa, including all 40 indigenous to Malawi.
Bantu languages share a common pronunciation and grammar, and many have closely related vocabularies.
If you speak any other Bantu language such as Swahili, Shona and Zulu, you will recognize many similar and identical words in Chichewa.
Chichewa Lesson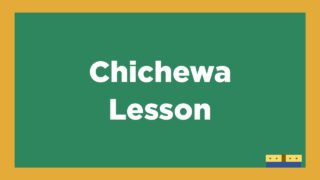 Learn Basic Chichewa
Learn Basic Chichewa Chichewa is Malawi's national language which i...