Interview with Chipiliro Kankhuni
Chipiliro Kankhuni – Visual Artist in Malawi
| | |
| --- | --- |
| Name | Chipiliro Kankhuni – Pamudzi Arts |
| Age | 22 |
| Current City | Area 25, Lilongwe, Malawi |
| Phone | +265 (0) 989 252 542 |
| Working Hours | 6:30-18:30 |
Notable Artworks
Beauty of Africa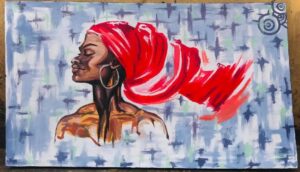 This painting captures the cultural beauty of Malawian woman who continues to embrace traditional customs in the modern era.
Happiness in the Village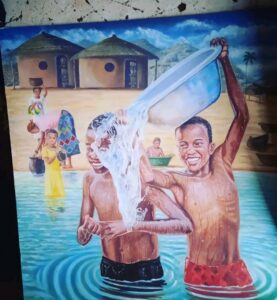 Drawing from own childhood experiences, this artwork depicts the joy and happiness I found in simple village life.
It serves as a reminder of the carefree moments spent paying and swimming in the rivers.
Orphan Survival
This artwork portrays the resilience of orphans in the world.
It depicts a baby sucking from a cloud connected to a tree, symbolizing the prphan's reliance on God's help.
The sky, resembling a breast, represents heaven providing sustenance to the orphans.
Through this pieces, I aim to inspire orphans by reminding them that everyone has a purpose and that with faith, they can overcome adversity.
Interview
Interview Date: July, 2023
My name is Chipiliro Kankhuni, and I am a painting artist based in Lilongwe.
I am the owner of Pamudzi Art, which offers a range of artistic services including pencil drawings, wall paintings, and more.
You can find my shop located in Area 25, or contact me for any inquiries.
MALAWI PLUS
How did you start painting?
My journey in art began in 2010 when I was in Standard 4 at Shire Urban Primary School.
It all started with a pencil drawing of the map of Malawi, which greatly impressed my teacher and peers.
Henceforth, I was drawing various artworks that my school needed.
I was later selected to represent my school in a Drawing Competition, and we emerged victorious.
From the competition, I was selected to pursue art education in China but I failed because of financial hiccups.
However, I did not give up my artistic aspirations.
In 2015, I began practicing paint drawing and in 2017, my portrait of my pastor gained significant popularity in the art industry.
MALAWI PLUS
What inspired you to begin art?
Seeing the artworks of talented artists heartened me greatly.
Their creations encouraged me to believe in my abilities and pursue my passion for art.
After receiving positive feedback for my early works, I become more determined to develop my skills and consider art seriously.
MALAWI PLUS
What are the best achievements you have encountered during your art carieer?
Throughout my art career, I have achieved several milestones, including creating portraits of prominent individuals and undertaking wall painting projects.
Some of my noteworthy accomplishments include securing a contract with Motor Angel Malawi to paint walls in various locations, including Biwi Primary School.
Additionally, I had an opportunity to paint walls at the Salima Culture Club in Salima.
MALAWI PLUS
What is your favorite aspect of creating art?
I find equal joy in both the beginning and the completion of an artwork.
A strong start often leads to a satisfying finish, so I meticulously plan my approach before diving into a project.
Finishing an artwork allows me to harmonize all the elements and bring my original vision to life.
Achieving this balance brings a sense of fulfillment and reassurance that I have completed my artistic work.
MALAWI PLUS
There has been an increase of painting artists in Malawi. For Pamudzi Art, How is the art market fairing?
The art market for Pamudzi Art is progressing positively as my artworks are gaining popularity within the industry.
While securing daily orders can be challenging, I receive three to five orders per week.
MALAWI PLUS
What are challenges you are facing every day?
One of the biggest challenges I face is clients being reluctant to settle their balances upon receiving the completed artwork.
Although we accept lay buys, some clients consistently postponed their payments, making it difficult for me to sustain both my personal life and the operations of Pamudzi Arts.
Additionally, the high cost of production materials presents another hurdle.
The rising prices of inputs reduce our profit margins, making it challenging to maintain sustainable growth.
MALAWI PLUS
What are your goals in the art industry?
My aspirations in the art industry are triply.
Firstly, I dream of expanding Pamudzi Art into a renowned art company with a presence in all regions of Malawi.
I aim for Pamudzi Art to become the leading art company in the country.
Furthermore, I intend to establish an art school that will enhance art skills among fellow Malawians.
Lastly, I inspire to create a timeless artwork that remains valued for at least 14 years and becomes widely used throughout the country.
MALAWI PLUS
Every person has somebody who is his/her role model, do you have a role model and who is that person?
Madalitso Zuwawo, a virtual artist, has been my role model.
I have closely followed his work and drawn inspiration from his exceptional skills.
I strive to produce artworks of similar caliber and continue improving my craft.