Interview with Chris T.E Tauro
Chris T.E Tauro – Visual Artist
| | |
| --- | --- |
| Age | 23 |
| Current City | Blantyre, Malawi |
| Instagram | @cristees.art |
Chris Tikhala Eddie Tauro professionally known as 'Cris Tee Taulo' is a Malawian artist based in Blantyre where he was born and raised.
Born on 14th September 1999, he has been drawing since the age of 5.
He was inspired to pursue art as a career path by Peter Masina whom he met at Chichiri Museum in Balntyre.
From there, he started training and began to expand his knowledge about the art industry at the age of 15.
Thereafter, he went on to receive formal art training at the University of Malawi, Chancellor College and was awarded a certificate.
Notable Artworks
Name of Art: Imagine an Elephant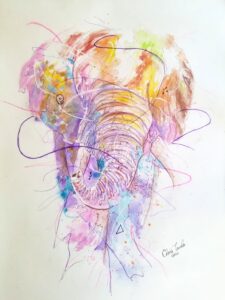 This is a watercolour and marker painting done in a style that depicts beauty of colour and rainbow colours using an elephant outline to make it stand out and give it an African feel.
Name of Art: Melting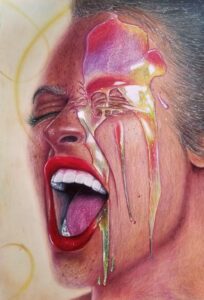 This is a colour pencil drawing with a fictional feel.
In this painting, her face was burnt to a point where she started melting into rainbow colours.
Name of Art: Crazy Hair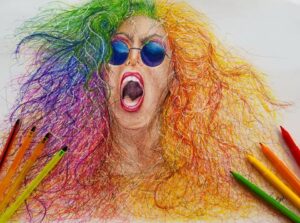 This is a pen and ink drawing that shows hoe afro hair flows when it gets windy.
Interview
Interview Date: July, 2022
"There were times when I wanted to give up drawing because I failed to produce what I imagined but passion kept me going."
MALAWI PLUS
May you describe your style of art?
I'm a professional artist and I draw with colour pencils, graphite, pen, ink, charcoal, acrylic, oil and watercolour painting with some craft as some of my minor medium and I also enjoy using Photo Realistic Illusion Drawings which have allowed me to develop my own style and technique in drawing and painting.
MALAWI PLUS
What are some milestones you have achieved during your career?
During my art career I have created a group called 'Art Masters', which aims to promote all artists and provide them with a chance to showcase their art online, while exposing them to upcoming visual artists and giving them an online and physical art training platform.
MALAWI PLUS
Which places have you showcased your work in?
I have had a chance to exhibit some of my work in some places like Kaza Kitchen in Lilongwe, Art in the Park at Four Seasons in Lilongwe, Zomba City Festival and Jacaranda Cultural Centre in Blantyre.
Moreover, some of my artwork has been sold in the United Kingdom and the United States of America.
I also provide art training to people that have been inspired by my work.
MALAWI PLUS
You often incorporate bright colours in your work, what is the inspiration behind this?
Yes, I like to use bright colours because I think they're eye-catching.
However, I am still trying to figure out my space in the art world so my style and the way I choose my colours will change eventually.
MALAWI PLUS
Where can people buy your art?
My art is available online at the moment just contact me directly on my phone, email or Instagram.
MALAWI PLUS
What is your thought process like when you are creating art?
Basically, I start by having a plan of what I want to draw based on inspiration from music, movies and nature then looking for a good reference photo and I sketch the outline just to get some really good proportions of the figure I want to draw.
After this, I choose the colours and materials that I want to use in the particular artwork and bring my imagination to life.
MALAWI PLUS
How has your practice changed over time?
There were times when I wanted to give up drawing because I failed to produce what I imagined but passion kept me going.
I needed to understand that art takes long to master and I just had to keep going and practice each and every day to get used to it.