Interview with Daniel Kwizombe
Daniel Kwizombe
Academics
Bachelor of Business Administration, Exploits University
Advanced Diploma in Electrical and electronics engineering- Malawi University of Business & Applied Sciences (MUBAS)
Certificate in Strategic and leadership Management, Singapore
Certificate in Pneumatics, Singapore
Certificate in Instrumentation & Control principles, ukc direct engineer through TEVETA
| | |
| --- | --- |
| Age | 35 |
| Position | Founder & Director |
| Company Name | Dek Engineering & Electrical Contractors |
| Industry | Manufacturing |
| Business Start | 2010 |
| Number of Staff | 10 |
Interview
Interview Date: June 2023
"Do not wait for the government to give you something to do such as employment."
MALAWI PLUS
Please introduce yourself.
My name is Daniel Ekali Kwizombe, I am married with two kids.
I am the founder of Dek Engineering and Electrical Contractors.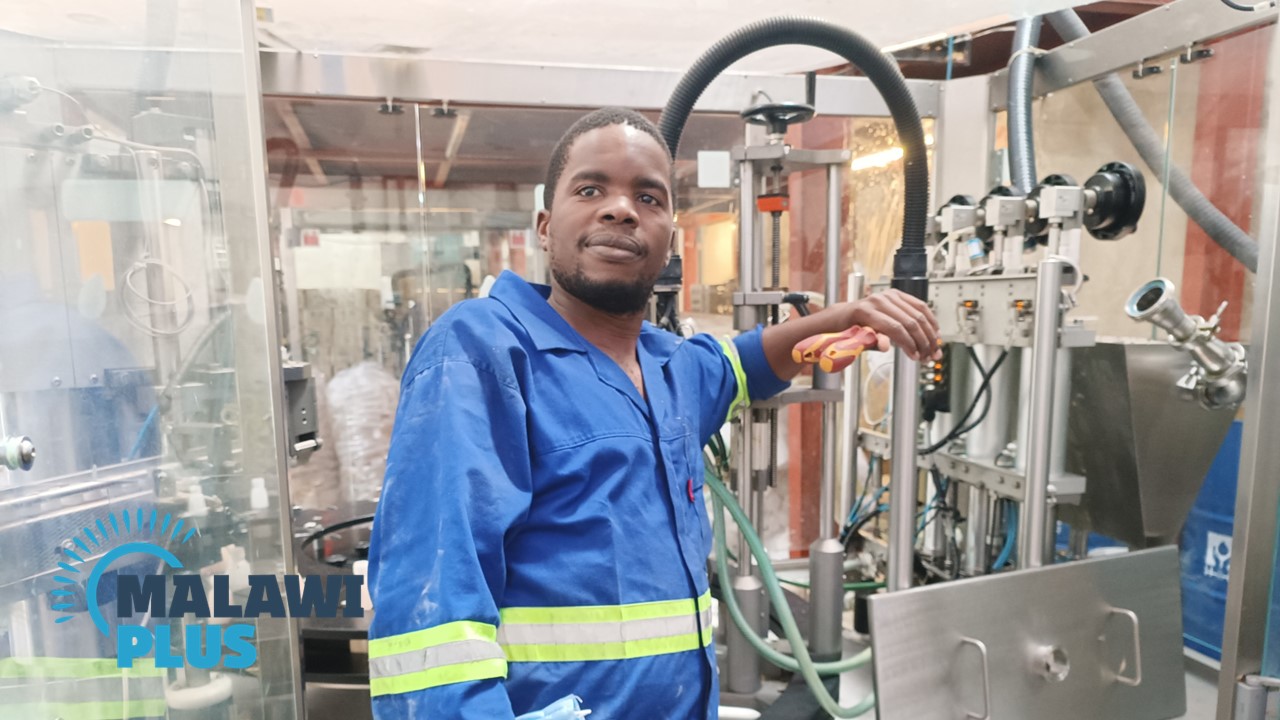 MALAWI PLUS
Can you tell us about Dek Engineering? 
Dek Engineering was registered in 2010.
We started as a briefcase company but as time went by we have grown to where we are now.
When we started this project of producing electrical products in 2019, I wanted to start with an airplane.
At that time Malawi was passing through challenges in the energy sector, I thought of doing research on how best I can help Malawi as a nation.
If I could have done an airplane it could just help maybe a small group of Malawians.
We are a fully registered company with all relevant authorities such as MRA, PPDA, MERA, Registrar General, and numerous other authorities.
MALAWI PLUS
What does Dek Engineering do?
We are into electrical services and products.
We repair electrical machinery, gadgets and what have you.
Everything which uses electricity, we can work on it.
And now we are into the production of electrical gadgets and appliances.
We have started with Eka-Lite LED bulbs.
We have already started producing LED tubes, the prototype is already done.
We also have done the designing of sockets, switches, top plugs, and many other things, we are just waiting to produce prototypes.
So, we are bringing solutions to Malawi and very soon we will bring import substitution.
MALAWI PLUS
What motivated you to establish Dek Engineering?
There are a number of things, firstly, I was once employed by some Indians.
I was contributing a lot but the treatment they were giving me was not good, so I was very furious and angry.
I told myself that my fellow Malawians should not pass through what I went through.
That was the beginning of my vision to start my own company because I saw that I had what it takes.
Another thing is that I saw a gap between people in high positions and lower positions.
So I wanted to bring a Malawian company to cover those gaps.
People should enjoy when they are working under someone, and the environment should be friendly.
I also saw the problems which Malawians were facing, I wanted to bring solutions to those problems.
I looked around and saw the need to start with the energy sector by producing high-quality products in the form of Eka-Lite Bulbs.
MALAWI PLUS
You manufacture LED bulbs. Can you tell us about Eka-Lite bulbs?
The name Eka-Lite Bulbs comes from my name Ekali.
In Eka-Lite LED bulbs, we use the principle called Electroluminescence principle.
This is a principle someone inverted long ago.
We import some other materials we use to produce the bulbs because in Malawi we don't produce capacitors, inductors, and diodes.
We import these and several others and we put them on the circuit that we design.
But there are some components that we are producing right here in Malawi.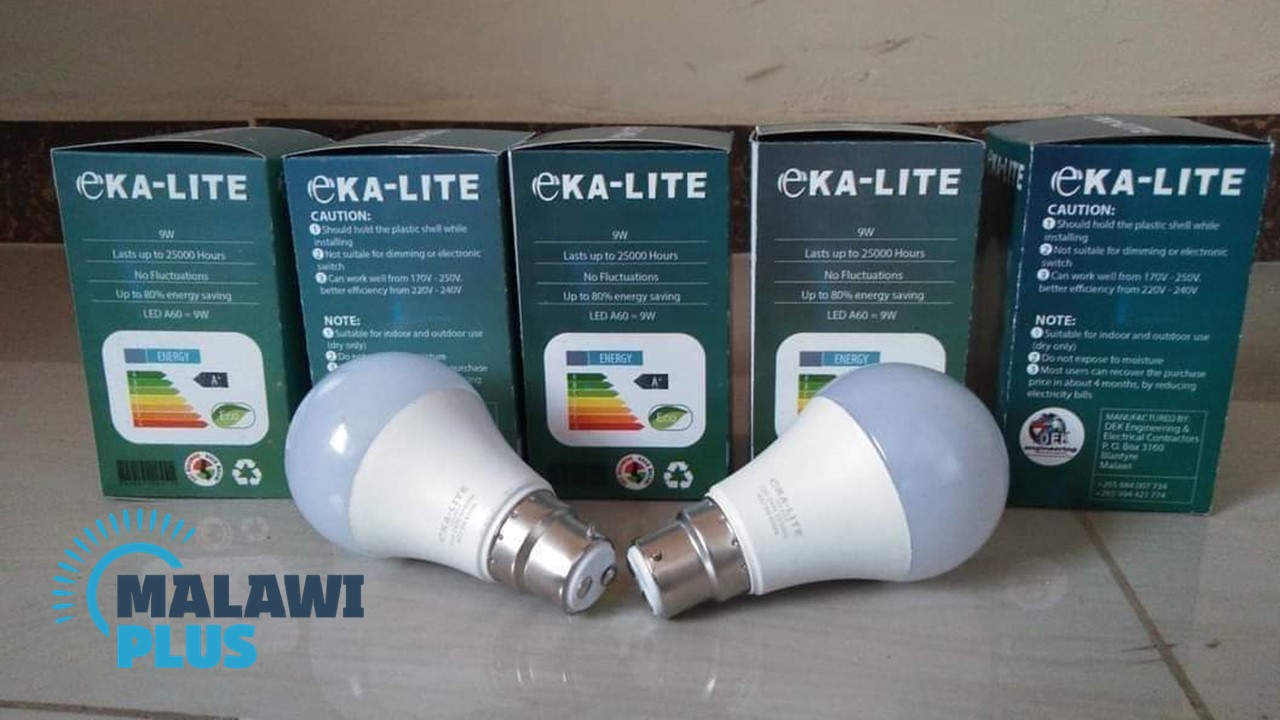 MALAWI PLUS
What makes your LED bulbs unique compared to other bulbs?
Eka-lite is a Malawian brand, our bulbs are energy efficient, they are long-lasting; they have a life span of 25,000 hours which is close to 3 years when you use them in a building without faults.
The bulbs offer high-quality light with excellent colour.
If you take our bulb and take any bulb on the market with the same lumens, Eka-lite will produce superior illumination.
The bulbs can also be recycled.
MALAWI PLUS
How has the response towards the LED bulbs been so far?
The response is very good.
If all goes well, you will see ESCOM giving the public Eka-lite Bulbs.
MALAWI PLUS
You were at the Malawi International Trade Fair in May, how significant was it to your company?
It opened some doors for us, for instance, very soon Eka-Lite bulbs will be found in our neighbouring countries.
We were also able to have business networking with other countries and there was exposure as well because some people didn't know about Eka-lite.
People were very excited to see bulbs produced in Malawi.
MALAWI PLUS
What are some of the challenges you have faced?
The first thing is finances.
Getting a loan is a big challenge and we are just trying to pump in the little money we have from our pockets.
Another challenge is getting full support from government.
As of now, I was expecting the government to come in and say: 'You are doing a great job and let's cut the importation of bulbs so that we don't lose a lot of forex.'
We are not saying the government is not really helping us but somehow they are not giving us full support.
MALAWI PLUS
What is your proudest moment?
To start producing LED bulbs is the proudest moment.
In Malawi, I am the pioneer of this, no one has ever done this before.
MALAWI PLUS
What are your future plans?
I want to have a very big industrial hub whereby we will be producing every electrical product right here in Malawi such as TVs, cell phones, cookers, fridges, radios etcetera.
We want to bring solutions to the electric problems Malawians are facing.
Some Malawians are losing a lot of money because of trying to get something at a cheaper price but they don't know the quality of it.
We want to start producing things of high quality.
We have already started visualising the industrial hub which we want to build.
We also want to be the biggest company that employs the most people in Malawi.
Advice to Entrepreneurs
MALAWI PLUS
What advice do you have for young entrepreneurs?
Firstly, do not wait for the government to give you something to do such as employment.
We need to come up with a service or product we can offer to the nation which can attract people to come to us, even the government should be able to see an opportunity in us.
Secondly, you should not rush to get rich.
Have patience, and establish yourself.
If I had no patience, I wouldn't have been where I am today because it's very difficult to run a company.
Interviewed on June, 2023