The Best Accommodations in Balaka
Balaka is a district located on the M8 from Zomba to Lilongwe.
The town's population is composed of people of multiple ethnicities.
However, the Yao and Ngoni people make up the biggest percentage.
One of the interesting places to visit in Balaka is the huge Catholic Church at the Balaka Mission on the edge of the town which is home to Montfort Media that publishes a range of books and magazines.
Another attraction in Balaka, attached to the mission is the Chapel of Reconciliation, which was built so that people leaving Malawi's prisons could go to church without community disapproval.
A first step to re-integration which features murals made at Mua.
There is also a wonderful Italian restaurant called ARTHOUSE in Balaka, which offers pastas, pizzas, Italian coffee, ricotta cakes and more.
Balaka offers a wide range of accommodation options, from luxury hotels to clean, affordable guesthouses.
Here are some of the best accommodations in Balaka by budget.
Popular Accommodations for USD30-100
1. ARTHOUSE

| | |
| --- | --- |
| Name | ARTHOUSE |
| Location | Balaka |
| Phone | +265 (0) 995 054 782 |
| Opening Hours | 10:00-15:00 (Closed Tuesday) |
ARTHOUSE is an Italian restaurant, studio shop, tree nursery and boutique hotel in Balaka.
The restaurant has a relaxed atmosphere and serves gnocchi, ravioli, pasta, pizza, lemonade, and gelato.
The food is all exceptional and the staff are very friendly.
It's also nice to be able to browse their studio shop while waiting for your food.
The collections are all of high quality, unique and lovely.
The accommodation is clean and tastefully furnished in a sophisticated European style with very stylish furniture and lighting.
If you are in Balaka, or passing through Balaka on your way between Blantyre and Lilongwe, be sure to have lunch at one of these gems of the Malawian countryside.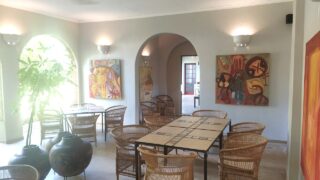 ARTHOUSE (Italian Cuisine) in Balaka
ARTHOUSE About ARTHOUSE Name ARTHOUSE Location Bala...