Interview with Kate Chabwera
Kate Chabwera – Special Effects Make-up Artist
| | |
| --- | --- |
| Age | 29 |
| Current City | Lilongwe, Malawi |
| Instagram | @kate_chabwera |
Notable Artworks
Art 1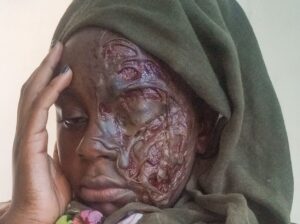 Art 2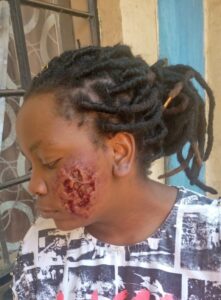 Interview
Interview Date: October, 2022
"The future of special effects makeup is very bright because of the younger generation of movie producers and directors."
MALAWI PLUS
Please introduce yourself.
My name is Kate Chabwera, I am 29 years old and I currently live in Lilongwe.
MALAWI PLUS
Can you tell us what special effects makeup is and how different it is from traditional makeup?
Special effects make up is a type of makeup that is used to create wounds, burns and cuts for the purposes of dramatization.
The main difference between special effects and traditional makeup is that special effects has nothing to do with beauty while traditional makeup enhances someone's beauty.
There are actually different types of special effects makeup.
Some of them focus on the creation of prosthetics which are artificial body parts and others like myself specialize in the creation of bruises and cuts.
So at the moment, I don't work with prosthetics.
MALAWI PLUS
Where and when did you learn to apply special effects make-up?
When I first started out, that was around 2015/16.
I would go on YouTube and watch many special effects makeup videos and then try to practice on myself.
At that time, I only knew one other person in Malawi that was doing special effects makeup.
MALAWI PLUS
What is the current situation of special effects make-up in Malawi?
I think as Malawians we're just discovering special effects makeup.
When I post my work online, I usually get negative comments because most Malawians don't understand the role that special effects makeup plays in movies and music videos.
I usually try my best to be patient and explain to people what special effects makeup is.
MALAWI PLUS
What are some challenges in the special-effects industry in Malawi?
The main challenge is that it is difficult to source material in Malawi.
At the moment, no one in the country sells the material that we use.
This means that the only option is to import the products but this is also costly.
The other option is to create the material myself or find alternatives that are available on the local market.
The other challenge is of course, the negative mind-set that people have towards special effects makeup.
MALAWI PLUS
What is the biggest project you have worked on as a special effects make-up artist?
The biggest project I've worked on so far is a music video with Tremor for his song titled 'Manjenje'.
I've also worked on an advert with Suffix where I did special effects makeup on him to make him look older than he is.
I also did Onesimus' artwork in the Solomoni video whereby there is a portrayal of gender based violence.
I worked on the female actor to make her look like she had been beaten.
MALAWI PLUS
What is the longest time you spent on this project?
Every project is different and each requires a different amount of time but for now, I can say the project I spent the most time on was the video for Tremor where I worked for a maximum of 2 hours.
123 With music videos, they are constantly moving to different sets so sometimes you can spend the whole day there.
MALAWI PLUS
What do you think is the future of special effects makeup in Malawi?
I feel like the future of special effects makeup is very bright because of the younger generation of movie producers and directors.
People are just recently discovering special effects makeup in Malawi which means that there is hope for growth in the future.
A lot of artists are also positive towards the industry which is really motivating.
MALAWI PLUS
What kind of projects do you want to work on?
I'd like to work on movie sets because like I said, I'm very passionate about movies so my dream would be to be able to work on a movie set.
I also want to expand my skill set so I would like to attend some sort of formal training in the special effects industry.
MALAWI PLUS
Is the special effects makeup industry high paying in Malawi?
Although people underrate special effects makeup, it is actually more well-paying than the traditional makeup industry.
For example, creating cuts can cost up to K50,000 per cut.
MALAWI PLUS
What makes your work unique as compared to other special effects makeup artists?
I think what makes me unique is that I am always ready to improvise and create my own materials so I'm very resourceful.
For example, when I'm making fake blood, it depends on how thick I want it to be.
If it's going to be very thick then I mix tomato sauce with red food colouring.
If I need a watery type of blood, then I mix glycerine or honey with food colouring.
MALAWI PLUS
Any advice for people that want to practice special effects makeup?
I would encourage them to do extensive research before starting work on the special effects look they want to create.
This is because in the special effects industry, everything has to make sense.
If you are creating a cut you need to know how the cut is supposed to look.
If it's a fresh cut or its rotting or healing, these all look different.
That's why research is important.
And if you're creating fake blood, you need to know where the wound is and how much blood that type of wound would need.
If you're creating a burn, you need to know the difference between a first degree, second degree or third degree burn and what they look like so that you can create the most effective one depending on the work you are doing.
So you and go look for the real one then you mimic that to achieve the best results.
Whether you're working on yourself or a client, you always need to do research in order to understand the type of special effects makeup you will be working on.
MALAWI PLUS
What is your favourite movie/video with special effects makeup?
My favourite is actually a series called The Originals which is a supernatural drama that has a lot of vampires in it.
I really admire the transformation of the actors through special effects makeup.