Interview with Mable Tikhala Wasi
Mable Tikhala Wasi – Sketch Artist
| | |
| --- | --- |
| Age | 20 |
| Current City | Blantyre, Malawi |
| Instagram | @mableteewasi_265 |
Notable Artworks
Name of Painting: Lady in mask

Since the world is going through a difficult time with the Corona virus, I decided to help raise awareness about masking up by depicting an Asian lady wearing a mask since this is one of the preventive measures of the pandemic.
The aim of this portrait is to give people hope that someday, the disease will end and this artwork will help explain the virus to the future generations.
This portrait is also about preserving history for the future.
Name of Painting: Baby on back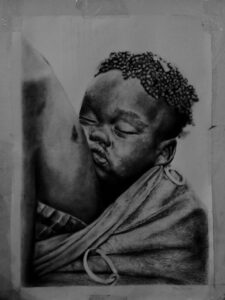 This portrait indicates how babies are safe with their mothers.
It also shows the African culture of carrying babies on our bacs when travelling, working or when trying to get them to sleep.
Interview
Interview Date: December, 2021
"I love seeing people confused by how the artwork was created."
MALAWI PLUS
What is your thought process like when you're creating art?
Usually, I think of how to come up with the exact image or check the reference picture given to me if it's a commission. I draw to relax, to entertain my fans and to get paid. I'm also motivated by my curiosity to try new things, sometimes I'm motivated by my emotions for example fear and excitement.
MALAWI PLUS
Which artists do you look up to and do you have a mentor?
I look up to a lot of artists including Heather Rooney, Kelvin Okafor, Stalin Caesar Saopa and Charles Laveso to mention a few. My mentor is God. It has been God since day one because I really don't understand how my work keeps improving. Sometimes I don't even understand my own drawings, and this has convinced me it's been God mentoring me.
MALAWI PLUS
Where can people buy your art?
I don't have specific place where I sell my art but they can get in touch with me by contacting me on Twitter @MableWasi, on IG @mableteewasi_265 and WhatsApp (+265 (0) 888 945 894). For commissions, the process is simple, people can send me their picture and I draw it then send the portrait to them through their preferred courier service.
MALAWI PLUS
What is your favourite part about creating art?
I love seeing people confused by how the artwork was created. It makes me happy and eager to try new styles. I also enjoy getting to know new people who get in touch with me almost every day after seeing my art on social media. Lastly, getting paid for my artwork has been very fulfilling for me because I now manage to meet my basic needs.
MALAWI PLUS
What inspired you to use chalk/pens/pencils in your art?
I was inspired to use pens because they are challenging to use since there's no erasing or blending therefore there is little room for error. So as someone who enjoys challenges, I found it exciting to use pens in my art. As for the chalk drawing, I used chalk once in a classroom. On this day I was preparing for an exam and I was panicking so I decided to do a quick sketch to relax my brain but there was no pencil or pen available so I decided to use chalk. I was really amazed by the reactions of the people that saw it.
MALAWI PLUS
How has your practice changed over time?
I started drawing in 2019. My first artwork was my baby sister. I received positive feedback from people and I started practicing to get better. So far, my practice has changed so much and the more I practice the better my work gets.
MALAWI PLUS
In what way does living in Malawi impact your art?
Malawi has very few female artists and this has positively impacted my art because I've had enough room to capture people's attention and inspire other women. On the other hand, although most Malawians love art only a few are able to purchase it and this has had a negative impact on my art. Another problem is  that some Malawians tend to support foreign art more than local arts.
MALAWI PLUS
Are you satisfied with the way your art has been received?
I am partially satisfied but I'd like to be exposed more.
MALAWI PLUS
What is your dream project?
I would like to make a portrait that will be displayed at the Golden Peacock Hotel.
MALAWI PLUS
Any artists you would like to collaborate with?
I'd love to collaborate with Heather Rooney one day. I'd also love to work with musicians such as Gwamba, Sangie, Tay Grin and Patience Namadingo.
Having my art displayed in their music videos would male me happy.