mHub
| | |
| --- | --- |
| Establishment | 2014 |
| Total Number of Staff | 15 (As of September 2020) |
| CEO | Vincent Kumwenda |
| Address | Area 15, Chiwengo Road, Plot#46 Box 1689, Lilongwe |
| Phone | +265 (0) 888 988 046, +265 (0) 999 573 702 |
| Email | info@mhubmw.com |
| Website | https://mhubmw.com/ |
| Opening Hours | 8:00-17:00 (Mon-Fri) |
About mHub
Established in 2014, mHub is Malawi's first technology and innovation hub located in Area 15, Lilongwe.
This is a social enterprise that trains, accelerates and incubates youth entrepreneurs in ICT and business skills.
mHub has trained over 30,000 youth in ICT and business skills and incubated more than 40 youth entrepreneurs in fields such as ICT, agribusiness, photography, auditing and waste management.
The hub also provides a co-working space for youth innovators and entrepreneurs.
The space is designed for them to work and connect with potential clients.
It affords an atmosphere conducive for interaction with other innovators and entrepreneurs, sharing ideas and networking.
What mHub Does
ICT Consulting
Developing software solutions to solve challenges by leveraging community and team.
These include both business and social-economic challenge solutions.
Entrepreneurship and Social Support
Nurturing young innovators and entrepreneurs with technical and business skills to create sustainable business solutions.
ICT4D Projects
Pioneering technology products and platforms that address society challenges.
mHub has launched over 30 technology platforms in area such as Human Rights, Citizen Engagement and Governance and Transparency.
Company Tour
"WHERE TECHNOLOGY MEETS INNOVATION"
Point 1   Eco-friendly and Warm Hub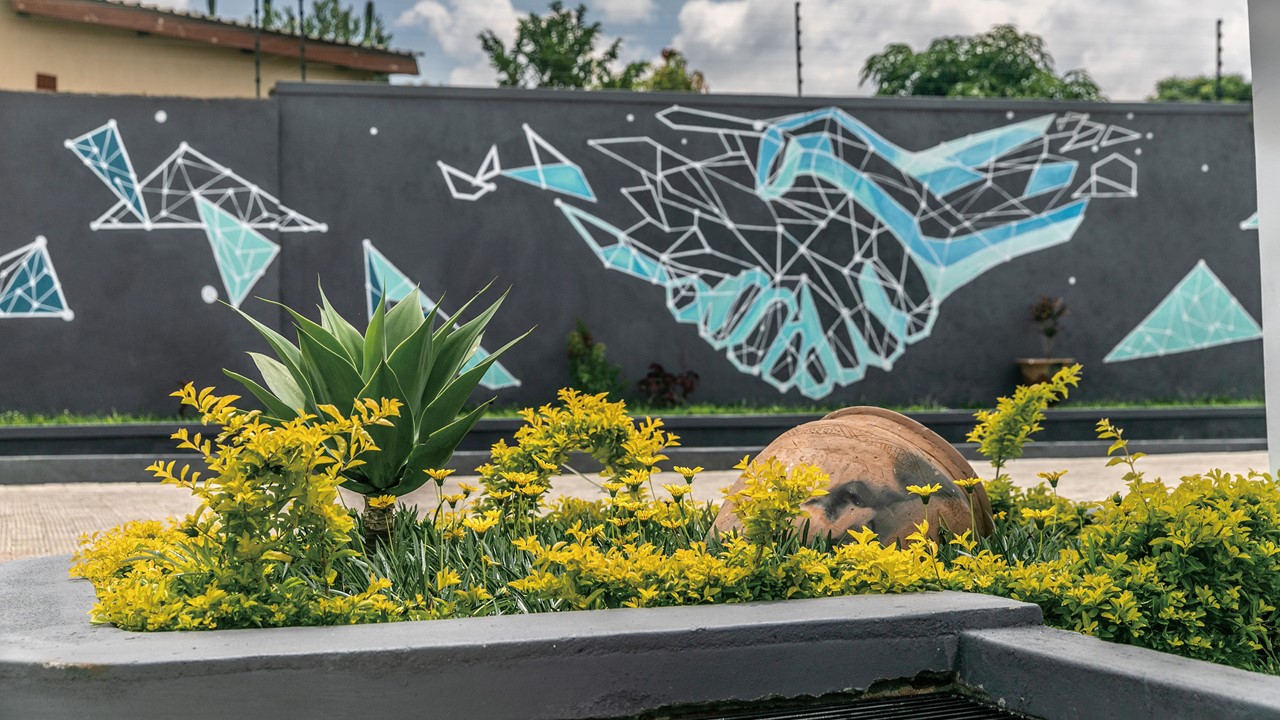 The hub is embraced by natural elements.
It is covered by vegetation everywhere such as on the walls and the backside roof.
There is also a particular use of warm tone woods and rocks hoping to inspire the community of innovators and entrepreneurs tie each other with warmth.
Point 2   Embraced by Arts
Most of the artworks at mHub are done by a local artists community called Zaluso Arts.
There is also an artwork done by a mouth painter who has disabilities and paints using his mouth inside the office.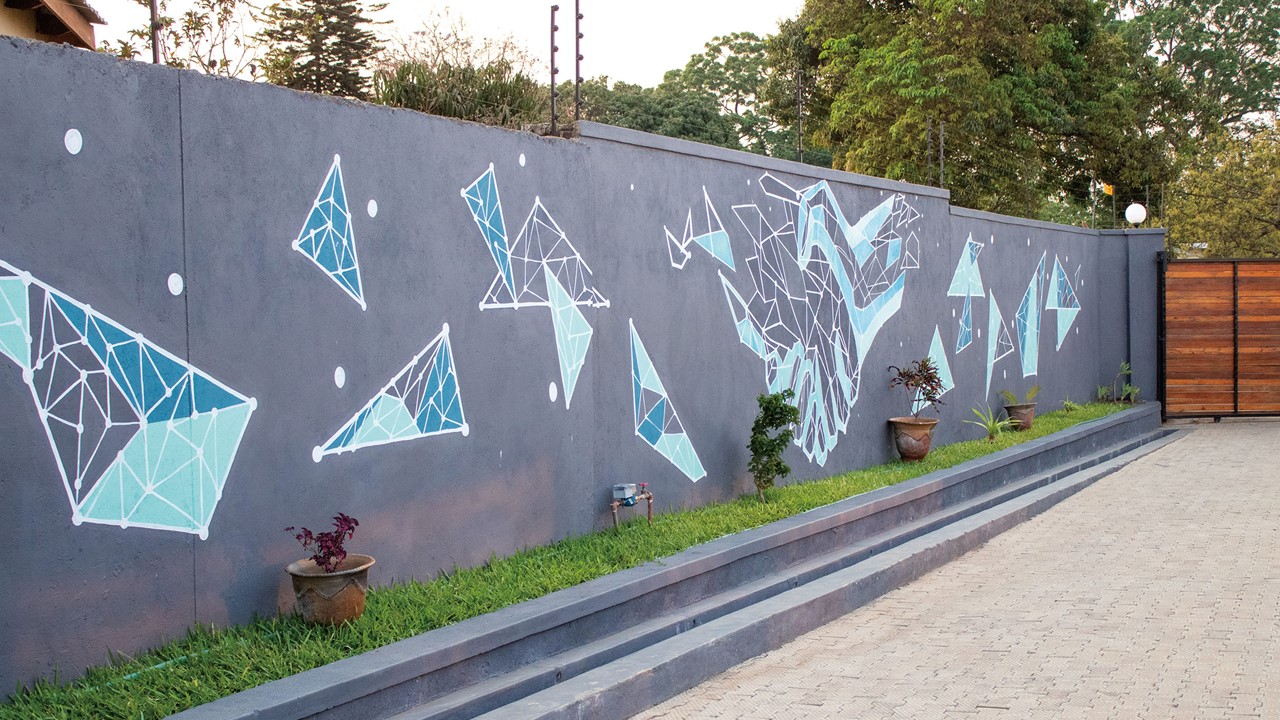 This is the first artwork to be seen when one visits mHub.
It shows interconnectedness of the mHub community.
Two hands made up of many pieces giving a handshake show that the hub consists of a variety of innovators in different fields connecting with each other.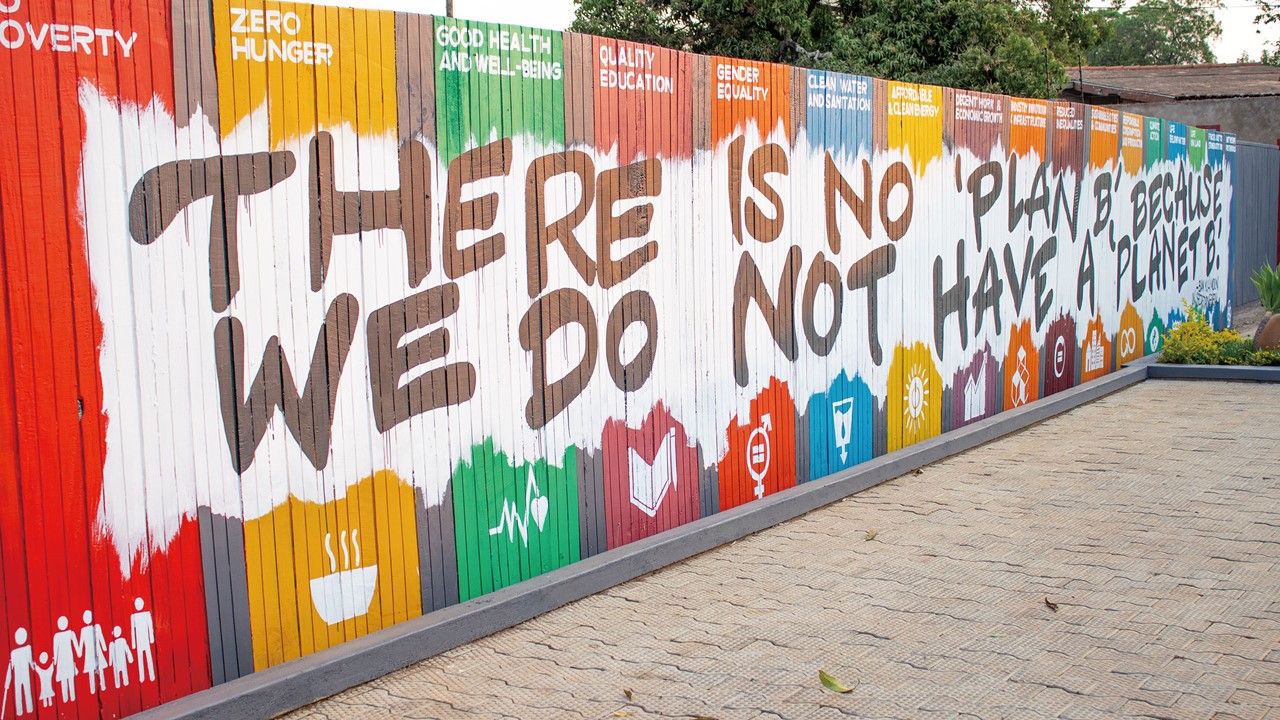 This artwork is a reminder for the 17 Sustainable Development Goals (SDGs) with the word, THERE IS NO 'PLAN B', BECAUSE WE DO NOT HAVE A 'PLANET B' by Ban Ki-moon, UN Secretary General.
Point 3   Outdoor Café Mzuzu Corner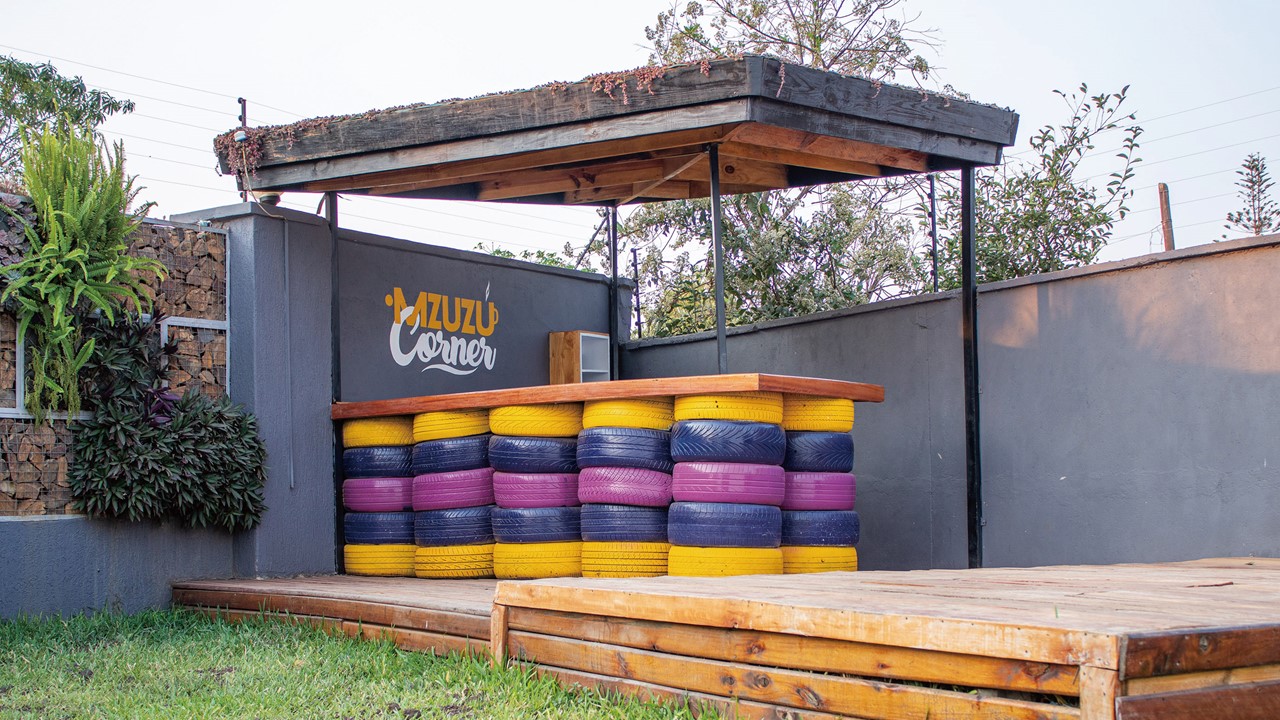 Mzuzu Corner was built with painted recycled tires.
It symbolizes that innovation can be reinvented from something that is already there.
The name was adopted from Mzuzu coffee from Chancellor College, Chilunga.
This café is usually used for networking events and conferences to display foods and drinks.
Point 4   Outside Working Space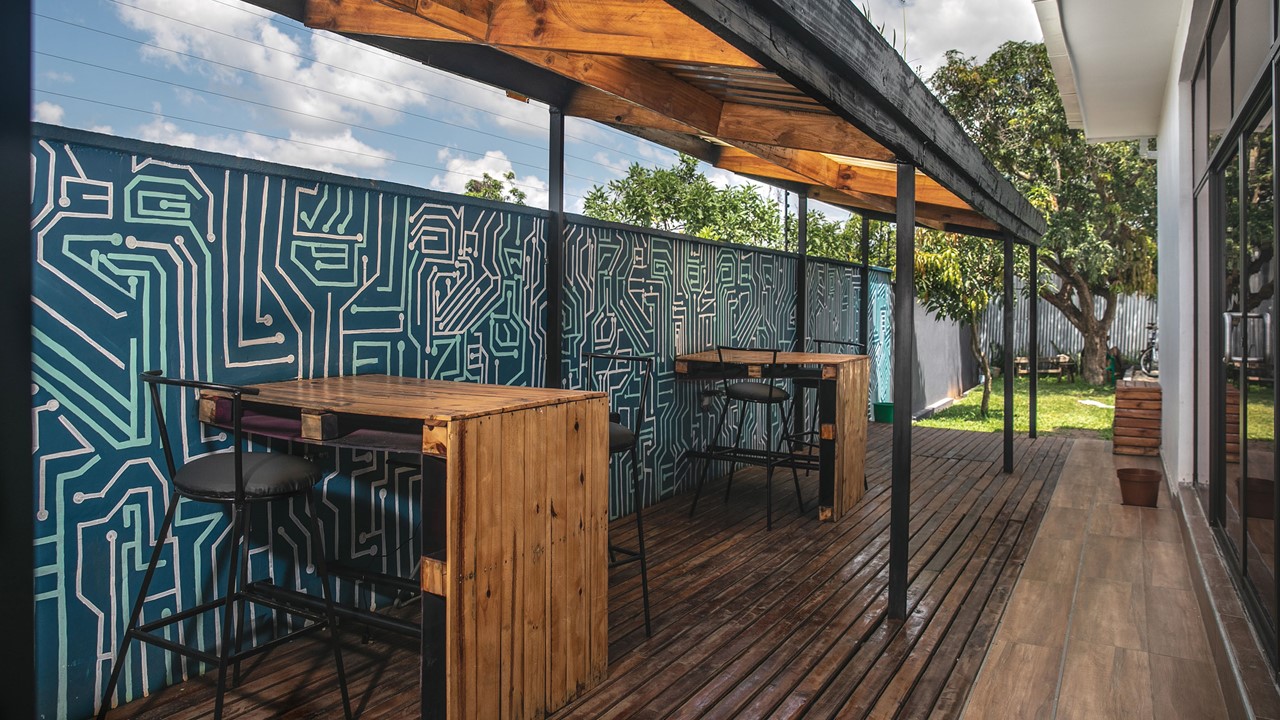 It is used as an outside work desk when people need fresh air, as a networking table for a meeting with 2 or 3 people, or as a table for lunch or tea to refresh.
It is also popular among the youth to take a nice selfie because of the beautiful background.
The Motherboard painting represents the connection and networking.
Point 5   Entrance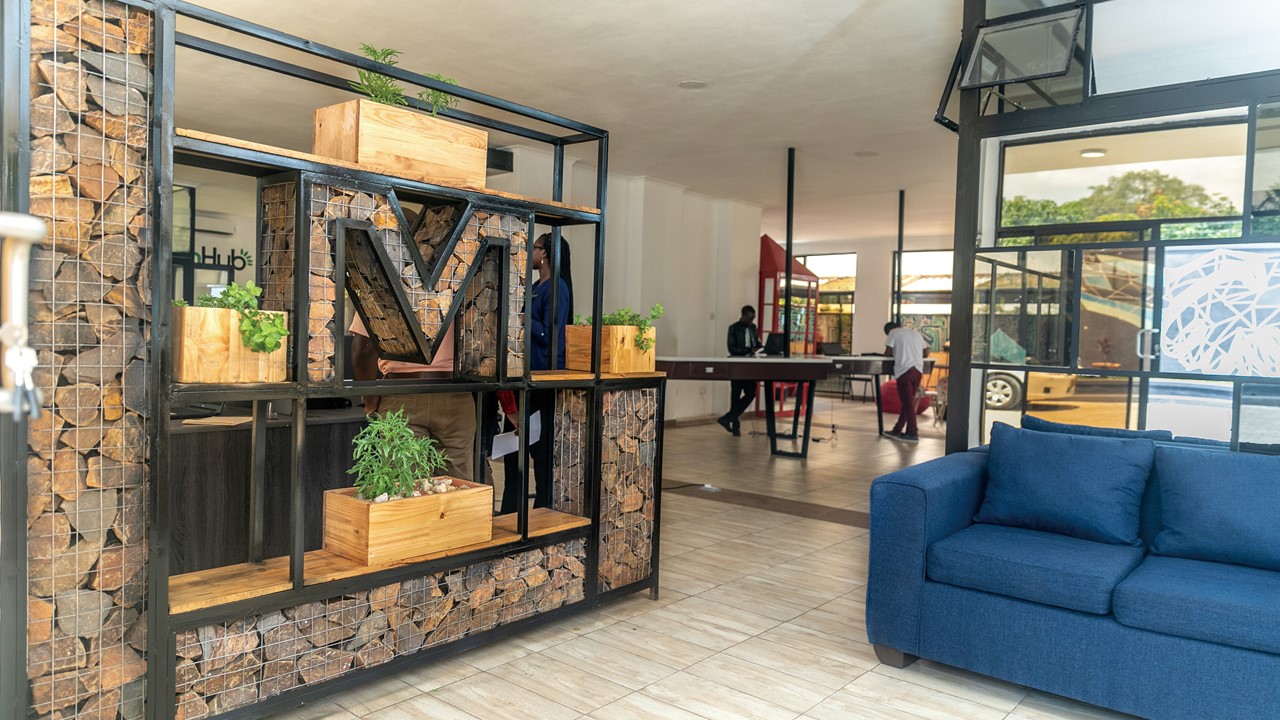 Decorative ornaments made out of vegetation, warm coloured woods and stones welcome visitors.
This is a statement that mHub works with entrepreneurs and innovators to contribute to Malawi's development.
Point 6   Dynamic Meeting Space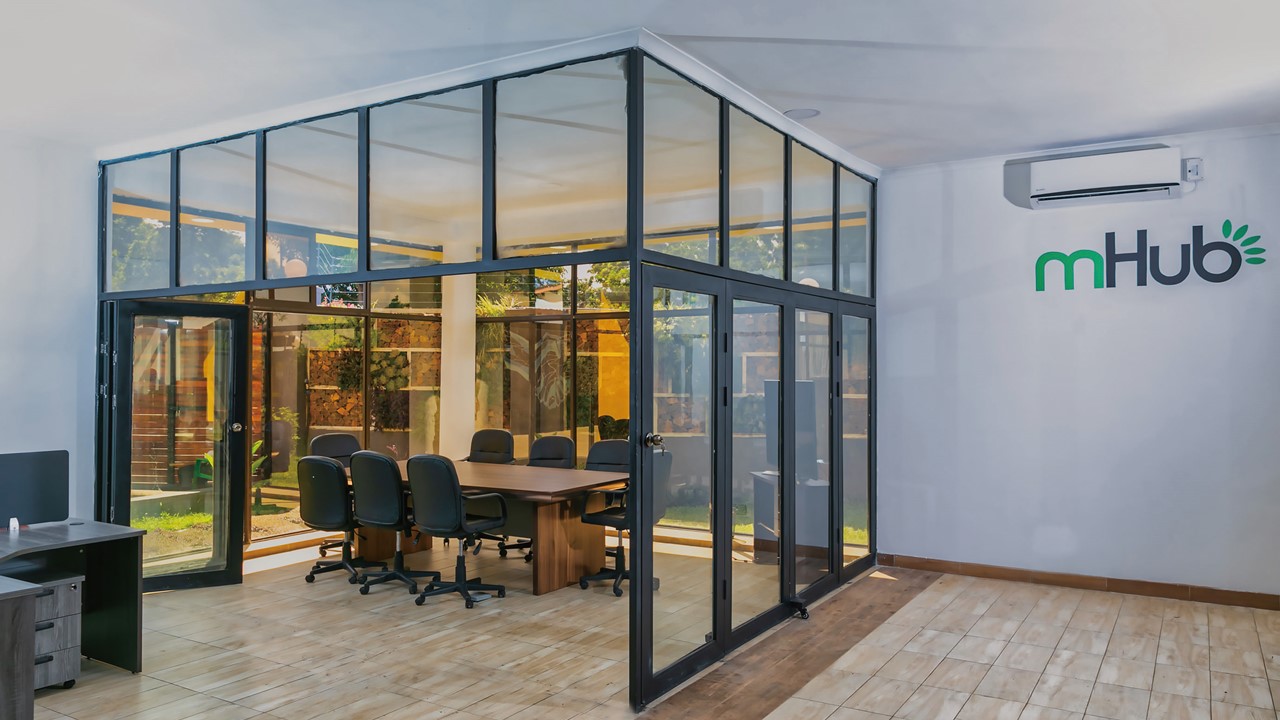 See-through Glass Board Room
The board room is embraced by see-through glass.
Even if you are in the board room, it feels like you are outside. People can be more creative in these spaces than walled room.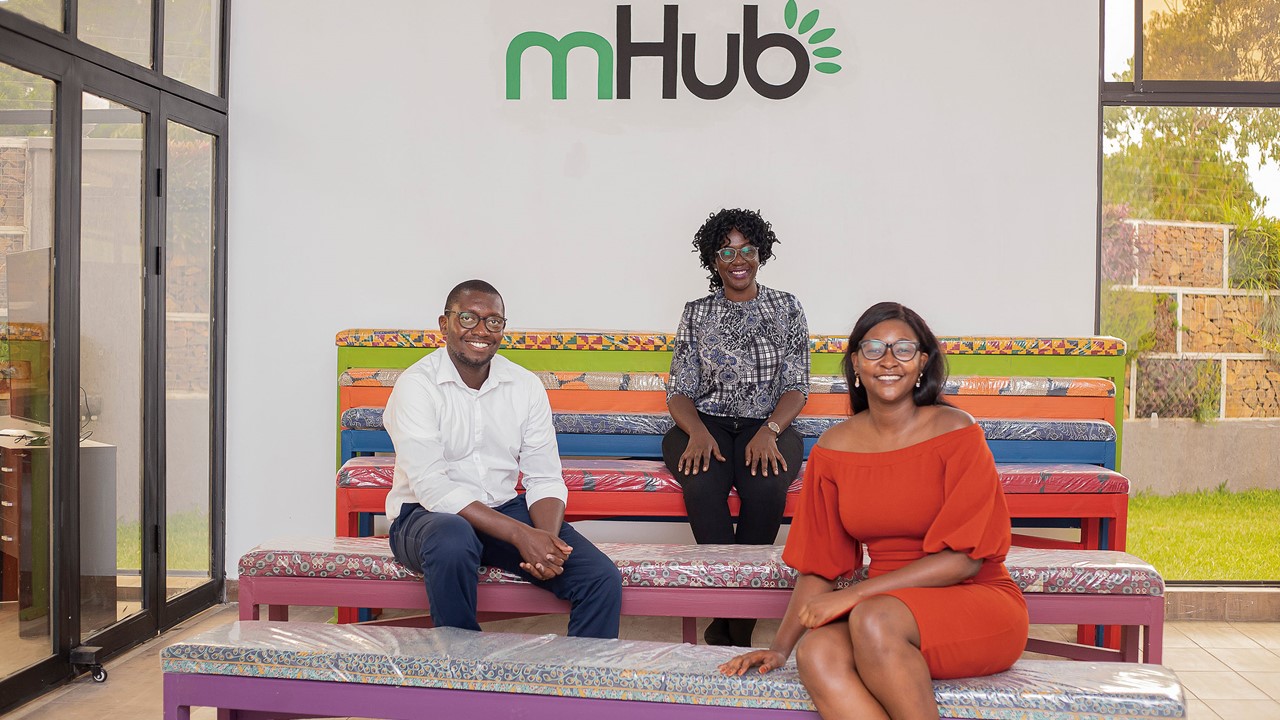 Re-tractable Chitenje Seating Area Called "the Stadium"
It can accommodate up to 50 people.
The seats are made up of the locally available Chitenje with different colours and patterns.
It shows Malawi's multi-cultural environment.
The glass walls and the Chitenje seats are retractable so that the space can be utilized for different purposes.
Point 7   Indoor Social Space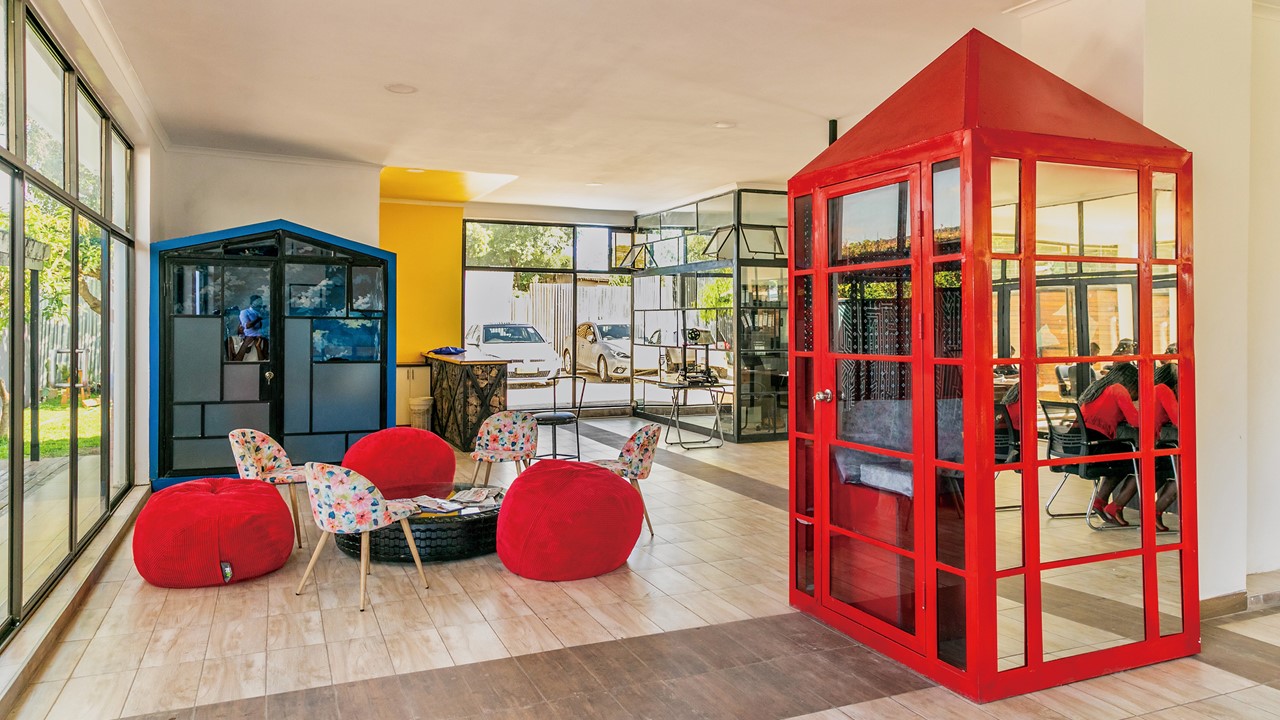 The colourful spaces images the vibrant and bright future of Malawi.
Point 8   Relaxing Blue Napping Booth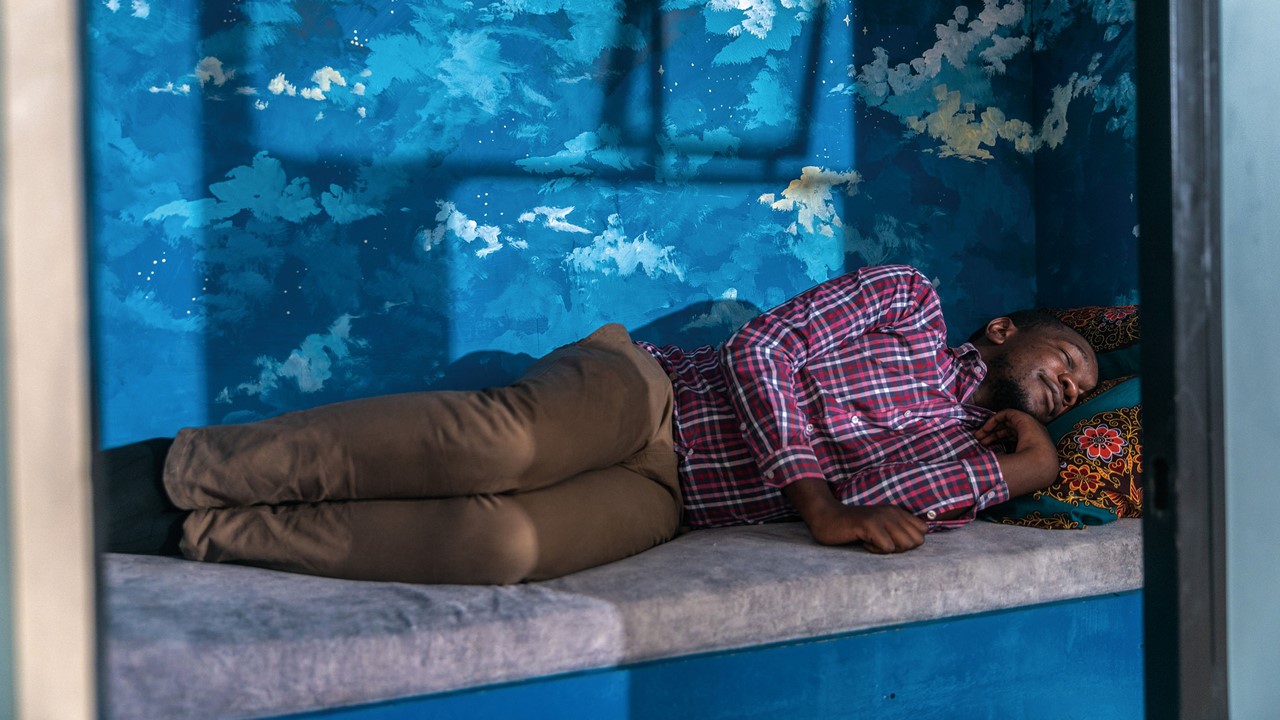 The napping booth was painted blue by Zaluso Arts to make people calm.
When you lay down, you can see a starry sky. It is designed to allow you have a good 10 minute to 20 minute nap and not to get too comfortable because it is see-through.
Point 9   Bold and Bright Yellow Kitchen
Yellow symbolizes the bright future.
Point 10   Radiant Red Skype Booth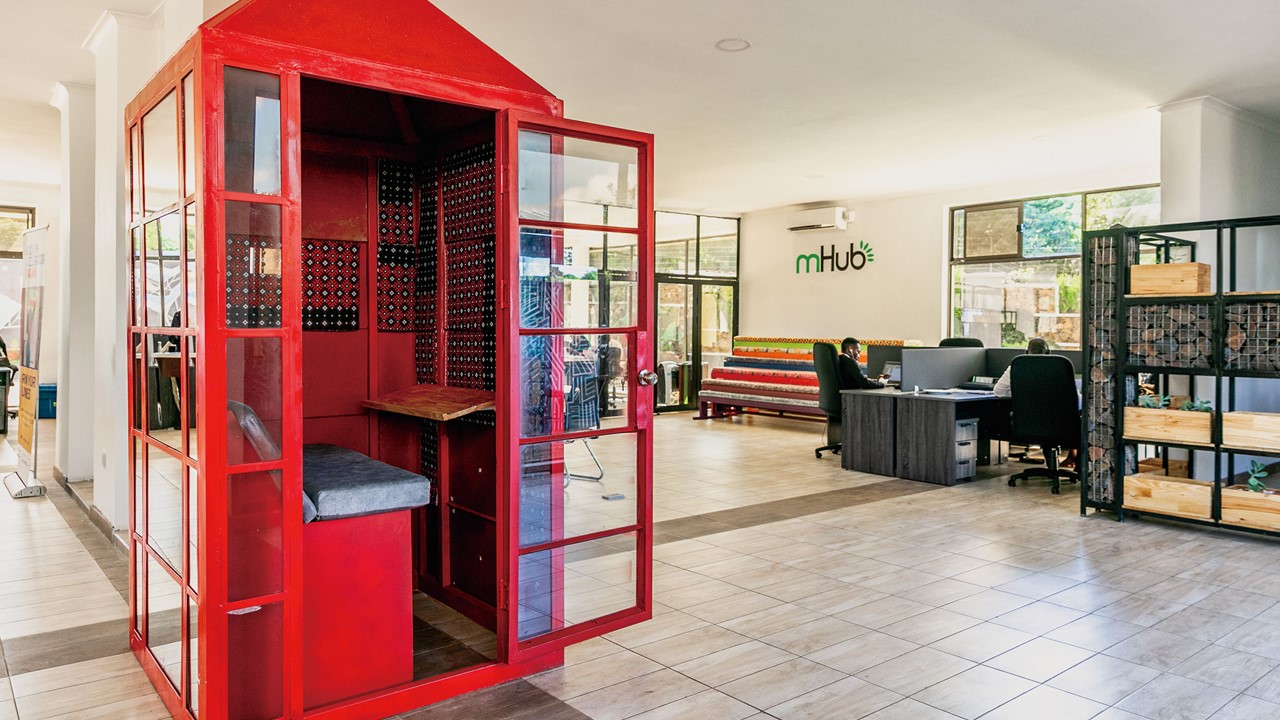 Red colour represents the passion to pursue the dream.
When you are in the booth, you are not bothered by the noise outside.
It is important for an open working space because sometimes you need privacy to take a call.
Covered on September 2020