Interview with Razia Akimu
Razia Akimu – Special Effects Make-up Artist
| | |
| --- | --- |
| Age | 32 |
| Current City | Lilongwe, Malawi |
| Instagram | @beauty_by_raz |
Notable Artworks
Art 1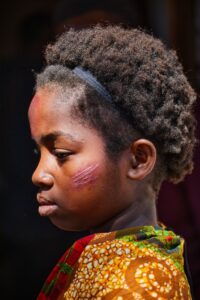 Art 2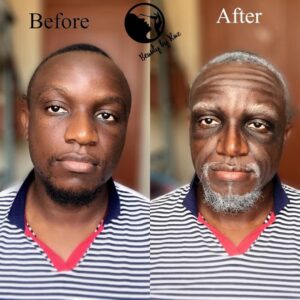 Interview
Interview Date: October, 2022
"They don't understand how it can improve story telling in the movie industry."
MALAWI PLUS
Please introduce yourself.
My name is Razia Akimu. I am popularly known as 'Beauty by Raz' on social media and in the makeup industry. I am 32 years old. I'm a professional beauty and special effects makeup artist. I hail from Mangochi.
I am a holder of a Bachelor's Degree in Mathematical Science Education majoring in Statistics and Computing from Malawi University of Business and Applied Sciences (MUBAS). I am based in Lilongwe.
MALAWI PLUS
Can you tell us what special effects makeup is and how different it is from traditional makeup?
Special effects makeup is the kind of makeup that is used in movies, plays and music videos to create illusions.
There is vast usage of fake blood, fake skin/flesh, burns, cuts and bruises mouldings and prosthetics (these are pieces or objects that are attached to an actor when transforming them intondifferent characters and giving them different facial and body features which are different from their own).
You can also transform a young person into an old person using special effects makeup as you may have seen on my social media pages.
The primary difference between traditional makeup and special effects makeup is that traditional makeup is typically meant to beautify or enhance an actor's natural features, while special effects typically does the opposite: it is used to create an other-worldly, inhuman, scary, or beat-up version of a person.
MALAWI PLUS
How did you become interested in special effects make-up? 
I started out as a bridal makeup artist in 2013. At that time, I was practising on myself and trying to figure out which type of makeup artistry best expressed my talent.
In 2015, I decided to try out special effects makeup. My interest in special effects makeup sparked as a result of watching a lot of movies.
I am a huge horror movie fan, thanks to my late mother. I often wondered how the creatures were created in the movies and at first, I thought they were computerized but later on, I found out that it was makeup.
So as usual, I went back to YouTube, started digging around and taught myself.
That is how I came to the decision to focus on special effects makeup as a profession.
MALAWI PLUS
Where and when did you learn to apply special effects make-up?
In short, I am self taught. I started experimenting in the SFX (special effects makeup) makeup industry in 2015.
Back then, I had no idea where to get the products from. I went on YouTube and researched. That was the best decision I ever made.
In the beginning, it was not easy. I had no special effects products, such as fake blood, fake skin/flesh, mouldings, prosthetics etc, so I had to make them myself. I watched a lot of DIY (do it yourself) videos on YouTube which helped a great deal.
However, I do plan to enroll for formal training in the future so that I can get certified and for my work to be taken seriously and also become recognised internationally.
MALAWI PLUS
What is the current situation of special effects make-up in Malawi?
Currently, special effects makeup in Malawi is pretty much in its infancy stage. The biggest setback is the public's mindset towards the art.
I think it is because a lot of people don't know much about it. They don't understand what it entails, how it can improve story telling in the movie industry and even the economy of the movie industry.
I am planning on having online sessions to sensitise and educate people on the subject through my social media platforms.
MALAWI PLUS
What are some challenges in the special-effects industry in Malawi?
There are loads of challenges! The first challenge is the negative attitude that people have towards special effects makeup.
On several occasions, I have been secretly mentally evaluated by friends and family who thought that I have lost my mind.
Others have even gone as far as claiming that I have been possessed by demons because the kind of work I produce is questionable since it involves blood and gore.
It took time for people to realise that all this was just makeup and not real.
These are just illusions and a lot of people don't understand that.
Secondly, most clients believe that makeup application is a simple task that doesn't need to cost much but what they don't realize is that besides the application, there is the cost of the products and the artist's time and energy that goes into it not forgetting the skill/level of knowledge that the artist possesses.
Most clients want to pay less for a big job and that's a huge setback.
Thirdly, there is also the lack of sufficient makeup artists in this industry and unavailability of special effects products in Malawi.
MALAWI PLUS
What is the biggest project you have worked on as a special effects make-up artist?
I have worked on many projects, both personal and paid.
The biggest project I have worked on is when I was the main special effects makeup artist on the full feature film "Fatsani" directed by Sukez.
I was also the main special effects makeup artist for the new upcoming TV series "Apongozi" which will be premiering in December 2022.
MALAWI PLUS
What is the longest time you spent on this project? 
The longest time I've been on set was for "Fatsani" which was 4-5 weeks.
The application of special effects makeup usually varies depending on the kind of work I'm creating.
Some projects take longer (8 hours) per actor and others can be completed in the space of an hour or two.
MALAWI PLUS
What do you think is the future of special effects make-up in Malawi?
The future of special effects makeup in Malawi is the same as all new art: it will take some time to grow.
Currently, I am the only recognized special effects makeup artist.
I hope and pray that more makeup artists venture into the special effects industry despite its hurdles in terms of markets (the movie industry is slow and so that affects the need for special effects makeup) and product acquisition.
MALAWI PLUS
What kind of projects do you want to work on?
I would like to work on the same projects I get here such as TV shows, movies, music videos, creative projects e.t.c.
However, if they could happen more frequently that would be great because it would create the need to fully invest in special effects makeup.
MALAWI PLUS
What is your favourite movie/video with special effects?
There are so many! Basically all horror and action packed movies contain special effects makeup.
Just to mention a few, my favourites include Edward Scissorhands (1990), The Nutty Professor (1996), X-Men (2000) and The Godfather (1972)