Interview with Ronald Emmanuel Nthubula
Ronald Emmanuel Nthubula – Visual Artist in Malawi
| | |
| --- | --- |
| Age | 28 |
| Current City | Blantyre, Malawi |
| Instagram | @i_ron_it |
Notable Artworks
Beautiful Mind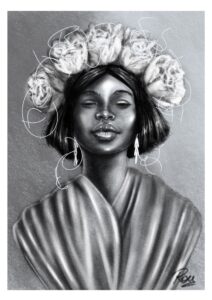 This is a piece about a woman's self-worth and mental health. Growing up with my mother as an only parent, taught me a lot about valuing women, so this piece is a representation of a woman who has peace of mind and is ready to take on the world with every ounce of her body and soul.
Reach for your dreams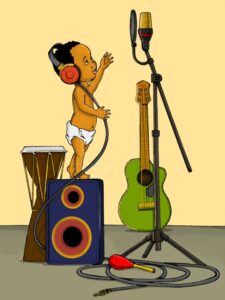 This is an illustration of a baby boy who dreams of being a musician, his goals seem out of reach, but he persists in reaching out for them (represented by how he's reaching for the microphone). This piece was created at a time I was surrounded by a lot of musicians and recording studios, a clear inspiration, but this represents myself or anyone who is reaching for their goals and will do whatever it takes to reach them.
I am what I am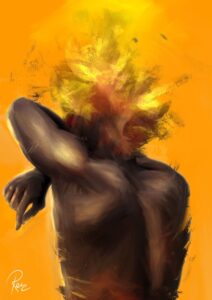 This is a very personal piece I did at a time I felt very depressed and unmotivated. I pictured how I felt and what I wanted to associate my feeling with, it gave me the strength to reimagine my distress and create a picture of my pain. This piece was bought by Lucius Banda at the Sand Arts Festival after I explained the story behind it. I believed it resonated with him as well, especially since the event was focused on advocating for mental health.
Interview
Interview Date: June, 2023
"Do what you love and love what you do. The world is full of endless possibilites."
My name is Ronald Emmanuel Nthubula, the last of two.
I was born and raised in Blantyre and I am a digital painter, illustrator, and graphic designer. I am also the Vice-chair of the Visual Arts Association of Malawi, central chapter.
MALAWI PLUS
How did you start digital painting?
My digital art journey started in the year 2010 when I was gifted my first digital tablet by one of my uncles, I dabbled in different mediums with my art but my curiosity led me to focus more on digital drawing and painting, I felt that I had more creative freedom drawing and painting digitally.
MALAWI PLUS
Where do you get inspiration to create your art?
My inspiration mainly is from everyday life; I create what I see and what I feel. Most of my inspiration comes from past memories or what I simply imagine would be a beautiful creation.
But also, the internet which is filled with hundreds of great artists.
MALAWI PLUS
How has your practice changed over the years?
My work has gone through a lot of transitions which has helped me learn a lot about my craft and develop my creative abilities.
I've developed new drawing techniques which also have challenged me to create and reinvent my style constantly over the years.
Also, with the power of social media, there has been a growing interest in my genre of art by more people which has helped me establish a following and the persistence to create.
MALAWI PLUS
Where can people buy your art?
I mostly advertise and sell my art on several platforms where I offer several packages depending on the client's preference, but mostly on Facebook as Ronald Emmanuel Nthubula, Instagram @i_ron_it, and my Google business site at roneffects.business.site/, and people can also reach me directly through my personal number which is 0997334708.
I also have my art displayed at the Wildlife Centre in Lilongwe under the Visual Arts gazebo.
MALAWI PLUS
What is your favourite part about creating art?
The unlimited freedom to explore and generate endless ideas.
Imagination is one of the most powerful tools a human being has, it definitely allows me to discover myself through my art in several different ways.
I'm reawakened with every new idea which shows me how further I can imagine.
MALAWI PLUS
Any challenges you have faced over the years? 
The most significant challenge has been people's acceptance of the new age of Art, especially in Malawi where people rarely understand the complexity and originality of my work.
The challenge has given me the opportunity to discover new ways of engaging more versatile audiences, like creating art similar to other mediums and relatable life scenarios.
MALAWI PLUS
Any artist you would like to collaborate with?
I have an endless list of artists that I'd love to collaborate with, even some from different artistic genres such as music and poetry.
MALAWI PLUS
Any advice to young aspiring artists?
Do what you love and love what you do.
The world is full of endless possibilities, and the limits are only a stepping stone to getting you to the next level.
You are greater than you imagine, anything and everything you set your mind to is possible.
MALAWI PLUS
What are your goals as an artist?
I want to create art that people can easily relate to, that gives it a beautiful representation of life which anyone can draw inspiration and motivation from.
I also want to see the art sector flourish in this country.