About St. Michael and All Angels Church
Basic Information about St. Michael and All Angels Church
St. Michael and All Angels Church is located on the original Scottish mission site in Blantyre, and was constructed from 1888 to 1891.
This magnificent red-brick church has been designated a national monument by the Malawian Department of Antiquities and is one of the biggest landmarks of Blantyre.
It has been described by Rev. Alexander Hetherwick as the first permanent Christian Church erected between the Zambezi and the Nile rivers.
The architect, Rev. David Clement Scott previously had no prior experience in architecture or building.
The local laborers also had no experience in this type of construction.
There were no drawings, nor sketches before construction, so everything was first tested with bricks before the final assembly.
You'll see that the two towers on both sides are quite different and not designed to be identical, another distinctive feature of the church's architecture.
Accommodations around St. Michael and All Angels Church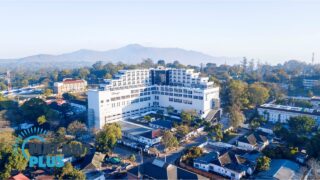 The 15 Best Hotels and Lodges in Blantyre
The 15 Best Accommodations in Blantyre Blantyre is Malawi's oldest ...
Getting to St. Michael and All Angels Church