Interview with Xandria, Founder and Fashion Designer of House of Xandria
Xandria
| | |
| --- | --- |
| Age | 25 |
| Position | Founder & Fashion Designer of House of Xandria |
| Company Name | House of Xandria |
| Industry | Fashion & Design |
| Business Start | 2015 |
Academics
2015   Bachelor's Degree in Business Administration – University of Eastern Africa Baraton
Notable Clients
Organizations
UNDP
Plan International
COMESA
Ministry of Defense
Latitude Hotels
The Venue
International Celebrities
Khanyi Mbau
Vusi Thembekwayo
Kwesta
Yonessa
AKA
Diamond Platinum
Dana Cody
Bdota
Pompi
Local Celebrities
Hazel Mak
Kim of Diamonds
Tay Grin
Kell Kay
Phyzix
Theo Thompson
Sangie
Suffix
Interview
Interview Date: March, 2022
"DO SOMETHING THAT NO ONE ELSE IS DOING."
MALAWI PLUS
When and why did you established House of Xandria?
I've always had a passion for fashion.
I started designing at a very young age somewhere around 7 years old, despite going to a business school I'd still design clothes by hand when I was in school, then when I graduated in 2015 at 18 years old I decided to open my fashion brand and start doing fashion as a business.
I started the business with one dress which I sewed by hand then I made my friend wear it.
I took pictures of her then posted it on my Facebook.
From there people got interested and started making orders.
That's how the business started.
MALAWI PLUS
In 2021 you did the 'All shades of Beauty' fashion show, what was the inspiration for this?
My inspiration was drawn from the current representation of people with disabilities in the fashion and arts industry.
Apart from the stigma, I discovered that the talent exists in them and what they lack is someone to motivate and give them a platform to showcase their ideas and talent hence coming up with this idea.
I also wanted to create a platform for persons with disabilities to show their talents, to create business opportunities, job opportunities and other opportunities they can get through this and most importantly to show that disability is not inability.
Dressed by various designers, the models strutted on the runway, some in wheelchairs.
Their disabilities did not stop them from shining and claiming a spot in the fashion world.
Apart from the runway fashion show, persons with various disabilities such as visual impairment, epilepsy, deafness and blindness also showcased other talents such as weaving, music, poetry, dance and visual art.
This fashion show also had a great impact on the fashion industry as it attracted a whole new market for the participants and it was broadcast across several media houses such as Voice of America (VOA), Zodiak Broadcasting Station (ZBS), Times TV, Mibawa TV, the Daily Times and Malawi Broadcasting Corporation (MBC).
Additionally, I would say the fashion show was success because it improved community participation of persons with disability within the society.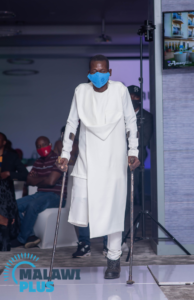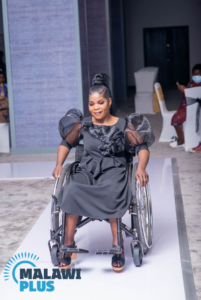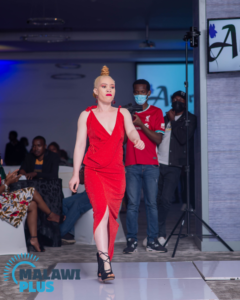 MALAWI PLUS
What has been the most challenging part about running this business?
The main challenge with the fashion industry in Malawi is lack of fabric manufacturing factories, which limits designers' creations because materials are limited.
It also makes things expensive.
The lack of fabric can also limit creativity because we don't have access to the material we need.
So if you really want the material, you can source it externally but that can also be costly.
MALAWI PLUS
How do you stay updated with trends in the fashion industry?
As a designer, it's always about creativity as opposed to following trends.
As a creator it's about what season I am in at the moment, what's inspiring me right now and what mood do I want to go for and that will determine the trend.
It's different from a fashionista or fashion blogger who has to keep up with fashion trends.
For me, I don't create according to what's trending.
For example, it's not about crop tops trending so let me make crop tops.
I create according to what I'm inspired by at the time and what I want to show the world.
MALAWI PLUS
How would you describe the fashion design industry in Malawi?
The fashion industry in Malawi is growing faster than it was when I just started.
When I started out, people didn't really appreciate fashion design and custom-made clothes.
Back then, people would only get custom-made clothes for events such as weddings but recently, people want to change their entire wardrobe to incorporate custom-made clothes that reflect their personal style.
We also have many designers now and that's a welcome improvement.
A lot of people are interested in fashion these days and we have a lot of tailors, designers and fashion bloggers.
MALAWI PLUS
How would you define your personal style?
I would say my style is haute couture  which is the creation of exclusive custom-fitted high-end fashion design that is constructed by hand from start to finish.
Advice to Entrepreneurs
MALAWI PLUS
What advice do you have for aspiring fashion designers?
Don't limit yourself to suit what the world wants you to be.
Create whatever you can without limitations and the world will adapt.
Interviewed on March, 2022