Entrance Fee
| | |
| --- | --- |
| International Visitors | USD10 |
| International Residents | USD7 |
| Malawians | USD1 |
| Accompanied Children under 12 | Free |
| Private Vehicles | USD3 to USD15 (depending on weight) |
Entrance gate: early-18.00 daily
About Lengwe National Park
Lengwe National Park is 887km2 and located in Chikwawa district, 80km from Blantyre, right on the Mozambique border.
The park was established as a 120km2 Game Reserve in 1928.
This was aimed to protect the large mammals found in the Lower Shire Valley, especially the nyala antelope and its habitat.
The Reserve was given the national park status in 1970 and extended to its present size of 887km2 in 1975.
The Park is managed by the Department of National Parks and Wildlife (DNPW).
Lengwe National Park can feel a little underwhelming after a day or two in Majete.
It is because the wildlife here all occur naturally, unboosted by any reintroduction programme.
Lengwe is quite dry outside of the rainy season, and the only source of consistent water is from the rain.
This assists game viewing because it forces the animals to use the few pools that are permanent supplies of water.
Many man-made water holes have been constructed to attract and maintain the animal population in the eastern area of the park just a short distance from the main gate.
Apart from game viewing, it is possible to hike all day in this majestic park with a ranger.
Tourists can also enjoy birdwatching and canoeing from April to December as roads become impassable during the rainy season and normally the lodge goes on holiday from mid-January to March.
The government tourist lodge was renovated and refurbished in 2003 and now operates as Nyala Lodge.
Wildlife
Game viewing is good during the dry season as you'll see many of these animals visiting the waterholes.
Lengwe National Park is the most northerly habitat to find indigenous Nyala in Malawi.
There are between 2,000-3,000 beautiful antelopes like the magnificent kudu which roam the park.
Guests on game drives can easily spot Livingstone's suni, bushbuck and impala as well as aardvark, yellow baboon, blue monkey, warthog, bush pig, vervet monkey and buffalo.
There are also predators in the park in the form of leopards and hyenas, the former often being very vocal but neither is often seen.
The Park is also a paradise for birdwatchers, with over 300 bird species, and enthusiasts will be eager to see woolly necked stork, trumpeter hornbill, bearded scrub-robin, yellow-spotted nicator and all three species of snake eagle found in Malawi.
Accommodation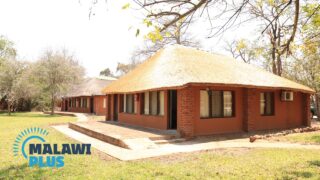 Nyala Lodge in Lengwe National Park
Nyala Lodge in Lengwe National Park Name Nyala Lodge ...
Itinerary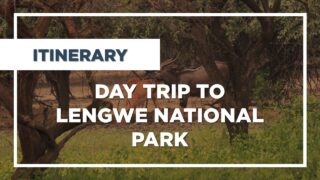 Day Trip to Lengwe National Park
Where to Go Lengwe National Park is located in the Chikwawa distric...
Location