About Lilongwe Wildlife Centre
Basic Information about Lilongwe Wildlife Centre
| | |
| --- | --- |
| Name | Lilongwe Wildlife Centre |
| Location | Along Kenyatta Drive, Lilongwe |
| Phone | +265 (0) 991 788 999 |
| Email | centre@lilongwewildlife.org |
| Opening Hours | 8:00 – 17:00 (Mon-Sun) |
Lilongwe Wildlife Centre is run by the Lilongwe Wildlife Trust (LWT), a private NGO.
The Wildlife Centre works to protect injured and rescued wildlife in order to release them back into the wild, and has over 200 animals in the centre.
There were guided sanctuary tours available to observe the protected animals until 2020, but these have now been closed.
Visitors can go trekking along the nature trails.
There are three trails of 1.1 km, 3.2 km and 4.3 km, allowing visitors to choose a course that suits their time and fitness.
The indigenous forest is home to a variety of wildlife, including hyenas, porcupines, bushbabies, serval cats, Nile crocodiles, monitor lizards and Schlegel's snakes.
The Lingadzi River, which flows through the site, is also a great place to watch kingfishers, herons and other waterbirds.
The facility also has a trendy café, gift shop and playground.
If you want to relax in the midst of nature in Lilongwe, this is the place to visit.
Entrance Fee
| | | |
| --- | --- | --- |
| | Citizen | International |
| Adults | MK800 | MK2,000 |
| Children | MK400 | MK1,000 |
*Café and Gift shop is free.
Restaurant in Lilongwe Wildlife Centre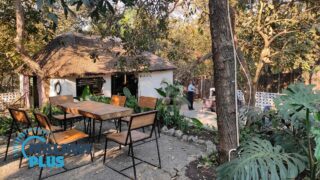 CLOSED - Maravi Gardens (Continental Cuisine) Lilongwe
CLOSED - Maravi Gardens About Maravi Gardens Name Maravi ...
Getting to Lilongwe Wildlife Centre