About St. Peter's Cathedral
Basic Information about St. Peter's Cathedral
Located in the Likoma island, St Peter's Cathedral is the principal Church of the Anglican Diocese of Northern Malawi.
After the foundation stone of the Cathedral was laid by Bishop Gerald Trower in 1903, the cathedral was dedicated in 1905 and completed by Bishop Thomas Cathrew Fisher in 1911.
Native granite was used in the cathedral's construction, while other materials were carried over from mainland and other countries, including bricks, timber, lime and cement.
Soil from Jerusalem was placed under the high altar.
It is said to be the third largest cathedral in Central Africa and the same size as Winchester Cathedral in the UK.
Its beautiful stained-glass windows, elaborate stone work and sheer scale convey the seal of the missionary creator's religions conviction.
The security guards will happily give you a tour of the cathedral.
Ask to climb the tower for the spectacular views.
If you are lucky to be here on Sunday, joining the vibrant service and hearing the choir's beautiful singing is an unforgettable experience.
The cathedral is less than 500m inland from the ferry terminal.
Accommodations around St. Peter's Cathedral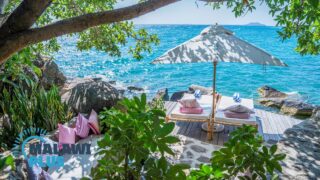 The 8 Best Hotels and Lodges in Likoma and Chizumulu
The 8 Best Accommodations in Likoma and Chizumulu Likoma is far off...
Getting to St. Peter's Cathedral