Zomba Plateau is a great slab of mountain rising to nearly 1,800m, which extends over around 130km² behind Zomba town.
It reaches an altitude of 2,087m above sea level at Malombe Peak, a part of the Shire highlands that run from the southern end of Lake Malombe.
Much of the plateau is protected in Malawi's oldest forest reserve under active management by the Department of Forestry.
A variety of soft woods are being grown on the plateau, the main ones being Mexican pine, cypress and Mulanje Cedar.
A large dam was constructed as a water reservoir in 1999, but this does little to interrupt the natural feel.
The Plateau offers a good spot for rambling, hiking and birdwatching.
Though it is less spectacular and wild than the larger Mulanje and Nyika plateaux, the upper reaches of Zomba are considerably more accessible.
For most visitors, Zomba's scenery is undoubtedly its main attraction and the views from the top were described in colonial times as "the best in the British Empire".
The mountain also supports a rich birdlife including the long-crested eagle and the augur buzzard.
The most common bird is the white necked raven which soon becomes a spectator at any picnic.
While mammals include leopards, serval cat and mongooses although sightings are rare. Red duiker, vervet monkey and yellow baboon are reasonably common.
More visible are giant butterflies and baboons on the lower slopes.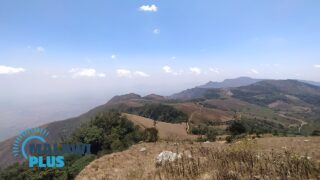 Hiking Zomba Plateau (Zomba)
Zomba Plateau Going up the Mountain The Zomba Plateau is a h...
Location